http://www.energyexplorer.ca/home-energy/
Energyexplorer is a website that comes out of research at UBC Vancouver aimed at building public energy literacy. By interacting with highly visual and contextually relevant information, Metro Vancouver citizens are encouraged to uncover how energy is an intricate part of their community. From a technical point of view, the resolution of the data is extraordinary which I think became possible through using LiDAR data. Furthermore, I'm very impressed with the fantastic representation on top of a topographic basemap.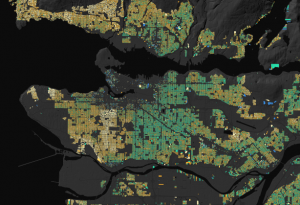 Rory Toke, the main developer behind the Energy Explorer, is also running a blog intended for those people interested in tracking the progress and participating in the development of the Community Energy Explorer project. Find his blog at http://www.energyexplorer.ca/blog/ or now in our blogroll on the right.